Meet the possibly first Wooden Sneaker, ever.
For red dot awarded sneaker specialist Sebastian Thies it's all about exploring and discovering unexpected materials for our feet. Constantly researching for the newest nature tec he surprises us with rain boots made of corn and sneakers made of stone or wood.
THE RESULT...
...is pretty (eco-)smart: All shoes are equipped with a soft padded, anti-bacteria real cork insole. The glue is free from animal ingredients, the outsoles are made from real rubber and the nat-2™ signature reflective and/or iridescent details for a better visibility and a futuristic look.
The patented material and the final sneakers are 100% made in Italy and produced under fair conditions in a new family-run high-tech facility.
You are free to choose from four different low top and high top models in various colors and wooden tones.
Maybe nothing for the devoted treehugger, but for us definitely a big #GreenThumbsUp!
When we first heard about it, we were wondering: How can a sneaker be made of wood? Sebastian, founder and creative mind of nat-2, explains: "Wood is applied to an organic cotton and vector engraved in a way that the material bends and becomes soft and flexible like a fine nappa leather. The feel is very smooth and fine, while you can smell the wood and see the tree's natural texture."
And it gets even better: The wood used to create the fabrics is sourced exclusively from ethically managed forests—with respect for the entire ecosystem.
Types of wood used are ash, birch, maple, tulip tree, walnut, cherry, elm and beech. All certified, which guarantees the traceability and origin of the wood.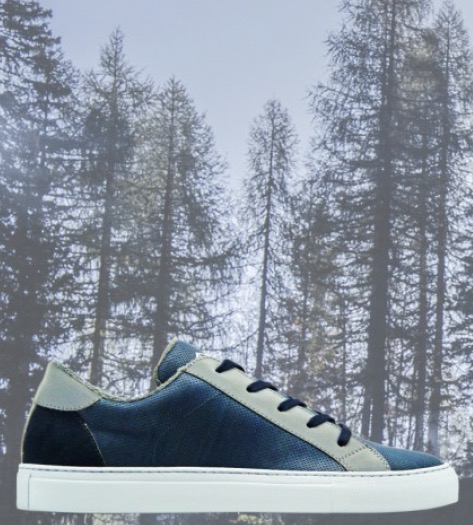 The feel is very smooth and fine, while you can smell the wood and see the tree's natural texture.
THE DETAILS.
Sebastian, we are very curious to hear more about how & why someone would make a sneaker out of wood. How did you come up with the idea in the first place? Did the material exist already or did you develop it from scratch?
We wanted to make a 'wooden' shoe for quite some time, because we have already been working for a couple of years with cork. When we did our research we found a company that just developed a material that would be suitable for our idea, but it was created for automotive industry purpose mainly, which meant it wasn't able to withstand the enormous forces that impact on a shoe. So we had to re-work the material, change the laser texture until it was a match for our needs. A true 'learing by doing' process which took a lot of time, money and nerves. We also had to find out which types of wood work for us...
Why go 100% vegan? You do have a lot of leather in your regular line...
For us it was only natural that if a shoe is produced from wood, it should be also free from animal components. We wanted to show that there exist real alternatives to leather, beside the design and optical zest that is added by using wood. Very important for us was also the sustainable aspect of the shoe that's why we used e.g. certified wood.
In my opinion vegan per se has nothing to do with sustainability though. Vegan products are not sustainable, they are in no terms better than non-leather products. They are often made of plastic. In the end of the line fishes eat the plastic particles (and we eat the fish)... Sadly almost no one is interested in these facts, that's why we find so much stuff in vegan stores that is totally 'cheap' beside being vegan.
What means being 'sustainable' for you? Do you consider nat-2 a 'sustainable' brand?
We don't consider ourself as a purely sustainable brand, but we do our best, wherever it is possible—and when ever it makes sense—to be, act and produce sustainable. But because we are an incredibly innovative brand and love to experiment we also use technologies that carry the ball (speak: humanity), but are not 'conscious' or 'sustainable'—yet. In general our list of innovations in the area of sustainability is pretty impressive and beats many brands that dub themselves sustainable.
We are more focused on the high fashion market. Retailers and consumers here do like the topic, but the main reason why they purchase our shoes are the look and high quality. At the moment we almost feel that we treat the sustainability topic for our personal satisfaction. Companies who really push the sustainable marketing card are mostly of vertical nature (read: the big players).
For us all this makes no sense. The only true way to being sustainable is reducing consumption. This counts when it comes to meat as much as it does for all other products. If consumers were ready to buy higher quality, they would need less of everything. Every high quality leather shoe is more sustainable than a ton of products made of eco cotton. The material used plays a secondary role in the end.